We are constantly running spaying campaigns. This is the only humanly way to prevent suffering.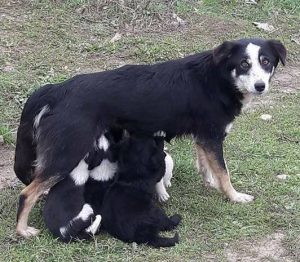 En/Fi/Ro 2018
On 4th April we should celebrate World Stray Animals Day. But, there's nothing to celebrate abour being a stray, a homeless, a beggar for food and love .. a constant victim of humans.
The best thing we can all do for the stray animals is to actually Do Something for them and reduce their number by Spaying and Neutering. We will never find as many adopters as puppies born in the streets..unless we reduce the number and the process.
This is why we invite you to donate as little (or..as much?) as you can, do not forget the big mountains are made of little stones.. ! People are often ashamed to donate 1 or 2 euro but I'm kindly asking you, don't be ashamed! Rich people usually don't help others! Rescuing animals is about a circle of many helping hands, each of them doing little things with big love and commitment!
Please use the paypal or account details and specify "spay a stray campaign" and please, mention here your donation so we can count how much we have raised.
The price for one spaying is 30 euro (dog up to 25 kilos) or 23 euro for one cat and we hope to raise funds for at least 20 females spayed.
The fund raising will end on 4 April at midnight and the spayings will be scheduled afterwards.
Thank you for the engagement!
Asociatia DoggyLand Family
Constanta, Romania
Cont RON: RO92RNCB0114152240700001
Cont EUR: RO65RNCB0114152240700002
SWIFT RNCBROBU
Banca Comerciala Romana
paypal: andramanolache2005@yahoo.com

Huhtikuun neljäntenä päivänä vietetään maailman kodittomien eläinten päivää. Päivässä ei kuitenkaan ole mitään juhlavaa – siinä, että eläimiä on edelleen kodittomina, ruoan ja rakkauden kerjäläisinä…ihmisten julmuuden jatkuvina uhreina.
Parasta, mitä voimme kodittomien eläinten hyväksi tehdä, on se, että yritämme ennaltaehkäistä niiden syntymistä. Tämä tapahtuu steriloimalla kaduilla eläviä narttukoiria ja kastroimalla uroksia. Kaikille kodittomina syntyville pennuille emme tule koskaan löytämään adoptoijia, mutta sterilointien avulla voimme tulla hiukan lähemmäs tätä tavoitetta.
Kutsummekin sinut mukaan sterilointikampanjaan: voit lahjoittaa niin vähän (tai niin paljon) kuin haluat ja voit, ja yhdessä pienistä puroista kasvatamme ison virran apua!
Mikään lahjoitussumma ei ole liian pieni, jos sillä saadaan apua sterilointikampanjaan. Yhdellä ja kahdella eurollakin voit jo olla mukana!
Voit tehdä lahjoituksen paypal-tilille, merkitse tietoihin "spay a stray campaign". Muistathan merkitä myös lahjoitussumman, jotta voimme tarkistaa miten paljon lahjoitusten kokonaissummaksi tulee.
Yhden (alle 25-kiloisen) koiran sterilointi maksaa 30 euroa, yhden kissan 23 euroa. Toivottavasti voimme steriloida ainakin 20 narttukoiraa tai kissaa.
Kampanja päättyy 4. huhtikuuta keskiyöllä, ja steriloinnit suoritetaan sen jälkeen.
Kiitos avustasi kodittomien eläinten hyväksi!
Asociatia DoggyLand Family
Constanta, Romania
Cont RON: RO92RNCB0114152240700001
Cont EUR: RO65RNCB0114152240700002
SWIFT RNCBROBU
Banca Comerciala Romana
In fiecare an pe data de 4 Aprilie ar trebui sa celebram ziua mondiala a animalelor comunitare. Dar, nu este nimic de sărbătorit în a fi comunitar, "maidanez", un cerșetor de hrana și afecțiune..o victima constanta a oamenilor.
Cel mai bun lucru pe care îl putem face este sa facem Efectiv, Real și Concret ceva pentru animalele comunitare, reducând numărul lor, prin sterilizare. Nu vom găsi niciodată adoptatori pentru toți puii născuți pe strada, dacă nu reducem numărul lor.
De aceea va invitam sa participați financiar cu atâta cat puteți, puțin sau mult. Oamenilor le este cateodata rușine sa doneze 1 leu sau 5 sau 10, dar va asigur ca majoritatea oamenilor care ajuta animalele nu sunt bogați! Ajutorarea animalelor înseamnă o comunitate de oameni nu bogați, dar inimoși și implicați!
Va rugam sa folosiți paypalul sau conturile bancare de mai jos, menționând "campania de castrari" și de asemenea sa menționați aici ajutorul dvs ca sa contabilizam suma la care s-a ajuns.
În această campanie prețul unei sterilizări este de 30 euro / 135 lei / caine (femela pana în 25 kg) și 23 euro / 100 lei / pisica. Speram sa se strângă bani pentru cel puțin 20 de castrari.
Strângerea de fonduri se va termina pe 4 Aprilie la miezul nopții iar castrarile vor fi programate ulterior.
Mulțumim pentru implicare!
Asociatia DoggyLand Family
Constanta, Romania
Cont RON: RO92RNCB0114152240700001
Cont EUR: RO65RNCB0114152240700002
SWIFT RNCBROBU
Banca Comerciala Romana
paypal: andramanolache2005@yahoo.com